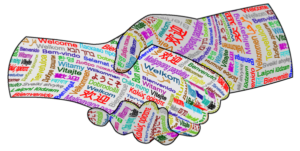 Human ego and uncorroborated presumptions, as discussed in our previous post, have led some to establish an intolerant standpoint against the whole idea of immigration. This is, technically, holding on to the idols of bigotry. Mass opposition to immigration phenomenon hinders skilled immigrants to show their full potential, and so, hampers their productive struggle. To fully perceive the positive aspects of immigration, and to realize its social, economic and cultural benefits, let us shift our thoughts to modestly accept and appraise immigration phenomenon with a somewhat humble viewpoint. We can also establish open dialogues and activities between natives and immigrants more frequently. Hopefully, this will bring about growth to the civilization by integrating the divided populace!
People traveling in the air and propelling on the ocean, or those roaming forcefully in crisis, are, at heart, looking ahead to their new land and hoping a change for the better. Let us, individually and collectively, welcome them to our native region with open arms. Show the avid dreamers, who were once wishing to shift personally, that their choice was no mistake at all. Offer the young knowledge-seekers optimum education and training facilities at their long desired institute. Prove the individuals in search of prolific economic environments that they were wise at their decision to travel. And lastly, take the pain off the oppressed shoulders which moved only because there was no other option.
Let us, for the sake of our fellow immigrants, also carry out immigration. Unlike theirs, our immigration will be subjective but, to our surprise, beneficial to the whole civilization, if not more. This will be our humble immigration of thoughts: from bigotry to openness!
← Opposition to Immigration – To What Extent is it Justified?
Click here to read the entire article on Ezine.